Predictive Factors for Successful Percutaneous Sclerotherapy of Venous and Lymphatic Malformations
Abstract
Objectives: To determine the predictive factors for good response outcome of venous (VMs) and lymphatic malformations (LMs) by percutaneous sclerosing therapy and to compare the complications associated with bleomycin versus alcohol treatment.
Methods: A retrospective analysis of 225 patients with lymphatic and venous malformation who had treated by percutaneous sclerotherapy using alcohol and/or bleomycin was performed The treatment outcome was graded from 0-3, in orderly of clinical responsiveness by using visual assessment of changing in size and subjective improvement of symptoms. Predictive factors of good treatment outcome were determined by uni- and multivariate analysis which were conducted on sex, age, onset of disease, location, type, characteristic of lesion and sclerosant usage.
Results: Of 225 patients, 87.6% were VMs and 12.4% were LMs. VMs were predominating in female (6.2:3.8). Between ethanol and bleomycin, there was no statistical significant of treatment sessions, dose and treatment outcome. (p= .42) Sclerosing therapy provided better response on VMs than LMs. (49.2% and 21.4% respectively, p=.002), and had more effective on focal lesions than diffuse patterns (64.9% and 26.1% respectively p<.001) The gender, onset of disease, locations, characteristic on venography and preceding treatment showed no correlation with treatment result. Major complications of ethanol occurred in 38.6%,including hematuria, gangrene, facial paralysis, pulmonary embolism and death. Minor adverse reactions of bleomycin encountered in 19.8% with hyperpigmentation, flu-like symptom and localized fibrosis.
Conclusion: Both absolute alcohol and bleomycin were effective sclerosing agents for percutaneous treatment of venous malformations, but no serious complications encountered with bleomycin. The characteristic of focal single lesion, at any region of body part, can be a predictor for good response.
Downloads
Download data is not yet available.
References
Jin Y, Lin X, Li W, Hu X, Ma G, Wang W. Sclerotherapy after embolization of draining vein: a safe treatment method for venous malformations. J Vasc Surg. 2008 Jun;47(6): 1292-9.

Spence J, Krings T, terBrugge KG, da Costa LB, Agid R. Percutaneous sclerotherapy for facial venous malformations: subjective clinical and objective MR imaging follow-up results. AJNR Am J Neuroradiol. 2010 May;31(5): 955-60.

Mathur NN, Rana I, Bothra R, Dhawan R, Kathuria G, Pradhan T. Bleomycin sclerotherapy in congenital lymphatic and vascular malformations of head and neck. Int J Pediatr Otorhinolaryngol. 2005 Jan;69(1):75-80.

Sung MW, Chang SO, Choi JH, Kim JY. Bleomycin sclerotherapy in patients with congenital lymphatic malformation in the head and neck. Am J Otolaryngol. 1995 Jul-Aug;16(4):236-41.

Rozman Z, Thambidorai R, Zaleha A, Zakaria Z, Zulfiqar M. Lymphangioma: Is intralesional bleomycin sclerotherapy effective? Biomed Imaging Interv J. 2011 Jul;7(3):e18.

Mason KP, Michna E, Zurakowski D, Koka BV, Burrows PE. Serum ethanol levels in children and adults after ethanol embolization or sclerotherapy for vascular anomalies. Radiology. 2000 Oct;217(1):127-32.

Muir T, Kirsten M, Fourie P, Dippenaar N, Ionescu GO. Intralesional bleomycin injection (IBI) treatment for haemangiomas and congenital vascular malformations. Pediatr Surg Int. 2004 Jan;19(12):766-73.

Jin Y, Lin X, Chen H, Li W, Hu X, Ma G, et al. Craniofacial venous malformations: magnetic resonance imaging features that predict treatment outcome. J Oral Maxillofac Surg. 2009 Nov;67(11):2388-96.

Som PM. Head and neck imaging. 4th ed. St. Louis.: Mosby.; 2003.

Puig S, Aref H, Chigot V, Bonin B, Brunelle F. Classification of venous malformations in children and implications for sclerotherapy. Pediatr Radiol. 2003 Feb;33(2):99-103.

Lee KB, Kim DI, Oh SK, Do YS, Kim KH, Kim YW. Incidence of soft tissue injury and neuropathy after embolo/sclerotherapy for congenital vascular malformation. J Vasc Surg. 2008 Nov;48(5):1286-91.

Yun WS, Kim YW, Lee KB, Kim DI, Park KB, Kim KH, et al. Predictors of response to percutaneous ethanol sclerotherapy (PES) in patients with venous malformations: analysis of patient self-assessment and imaging. J Vasc Surg. 2009 Sep;50(3):581-9, 9 e1.

Kullendorff CM. Efficacy of bleomycin treatment for symptomatic hemangiomas in children. Pediatr Surg Int. 1997 Sep;12(7):526-8.

Acevedo JL, Shah RK, Brietzke SE. Nonsurgical therapies for lymphangiomas: a systematic review. Otolaryngol Head Neck Surg. 2008 Apr;138(4):418-24.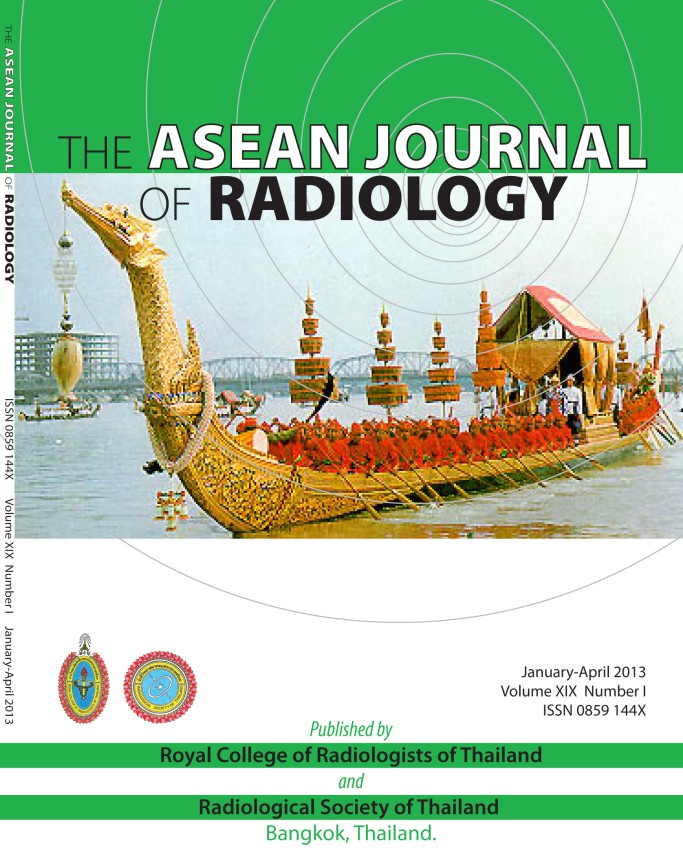 Downloads
How to Cite
1.
Churojana A, Mahiwan L, Songsaeng D, Khumtong R, Homsud S. Predictive Factors for Successful Percutaneous Sclerotherapy of Venous and Lymphatic Malformations. ASEAN J Radiol [Internet]. 2013Apr.29 [cited 2023Oct.1];19(1):29-42. Available from: https://www.asean-journal-radiology.org/index.php/ajr/article/view/20
License
Disclosure Forms and Copyright Agreements
All authors listed on the manuscript must complete both the electronic copyright agreement. (in the case of acceptance)