Cerebral Hemorrhage and Femoral Neck Fracture as Initial Presentations of Hepatocellular Carcinoma
Abstract
Hepatocellular carcinoma (HCC) is the most common primary liver tumor and one of the most common causes of cancer-related death in Thailand, particular in male. Extrahepatic metastases are common but usually diagnosed after detection of HCC. These reported cases presented with cerebral
hemorrhage and femoral neck fracture which are rare initial presentations of HCC.
Downloads
Download data is not yet available.
References
Jemal A, Ward E, Hao Y, Thun M. Trends in the leading causes of death in the United States, 1970- 2002. JAMA 2005 Sep;294(10):1255-9.

Bosch FX, Ribes J, Diaz M, Cleries R. Primary liver cancer: worldwise incidence and trends. Gastroenterology 2004 Nov;127(5 suppl):S5-S16.

Srivatanakul P, Sontipong S. Incidence of liver cancer in Thailand 1979. Thai Cancer J 1979;8:127-34.

Kassianides C, Kew MC. The clinical manifestations and natural history of hepatocellular carcinoma. Gastroenterol Clin N Am 1987 Dec;16(4):553-62.

Jemal A, Bray F, Center MM, Ferlay J, Ward E, Forman D. Global cancer statistics. CA Cancer J Clin 2011 Mar-Apr;61(2):69-90.

Perz JF, Armstrong GL, Farrington LA, Hutin YJ, Bell BP. The contritutions of hepatitis B and hepatitis C virus infections to cirrhosis and primary liver cancer worldwide. J Hepatol 2006 Oct;45(4):529-38.

Yuki K, Hirohashi S, Sakamoto M, Kanai T, Shimosato Y. Growth and spread of hepatocellular carcinoma. Cancer 1990 Nov;66(10):2174-9.

Sneag DB, Krajewski K, Giardino A, OûRegan KN, Shinagare AB, Jagannathan JP, Ramaiya N. Extrahepatic spread of hepatocellular carcinoma: Spectrum of imaging findings. AJR 2011 Oct;197(4):W658-64.

Katyal S, Oliver JH 3rd, Peterson MS Ferris JV, Carr BS, Baron RL. Extrahepatic metastasis of hepatocellular carcinoma. Radiology 2000 Sep;216(3):698-703

Tang ZY. Hepatocellular carcinoma-cause, treatment and metastasis. World J Gastroenterol 2001 Aug;7(4):445-54.

Sithinamsuwan P. Peratvisuth T, Tanomkiat W, Apakupakul N, Tongyoo S. Review of 336 patients with hepatocellular carcinoma at Songklanagarind Hospital. World J Gastroenterol 2000 June;6(3):339-43.

Jiang XB, Ke C, Zhang GH, Zhang XH, Sai K, Chen ZP, Mou YG. Brain metastases from hepatocellular carcinoma: clinical features and prognostic factors. BMC Cancer 2012 Feb;12:49.

Kim M, Na DL, Park SH, Jeon BS, Rah JK. Nervous system involvement by metastatic hepatocelular carcinoma. J Neurooncol 1998 Jan;36(1):85-90.

Choi HJ, Cho BC, Sohn JH, Shin SJ, Kim SH, Kim JH, Yoo NC. Brain metastases from hepatocellular carcinoma: prognostic factors and outcome: brain metastasis from HCC. J Neurooncol 2009 Feb;91(3):307-13

Uchino K. Tateishi R, Shiina S, Kanda M, Masuzaki R, Kondo Y, Goto T, Ornata M, Yoshida H,Koike K. Hepatocellular carcinoma with extrahepatic metastasis: Clinical features and prognostic factors. Cancer 2011 Oct;117(19): 4475-83.

Natsuizaka M. Omusa T, Akaike T, et al. Clinical features of hepatocellular carcinoma with extrahepatic metastases. J Gastroentero Hepatol 2005 Nov;20(11):1781-7.

Fukutomi M, Yokota M, Chuman H, Harada H, Zaitsu Y, Funakoshi A, Wakasugi H, Iguchi H. Increased incidence of bone metastases in hepatocellular carcinoma. Eur J Gastroenterol Hepatol 2001Sep;13(9):1083-8.

Barai S, Bandopadhayaya G, Chumber S, Haloi A, Seith A, Dhanapathi H, Kumar R, Malhotra A. Hepatocellular carcinoma presenting with pathological fracture of vertebra: report of a case. Eur J Radiology Extra 2004 Aug;51(2):73-6.
Golimbu C, Firooznia H, Rafii M. Hepatocellular carcinoma with skeletal metastasis. Radiology 1985 Mar; 154(3):617-8.

Liaw CC, Ng kT, Chen TJ, Liaw YF. Hepatocellular carcinoma presenting as bone metastasis. Cancer 1989 Oct 15;64(8):1753-7.

Raoul JL, Le Simple T, Le Prisé E, Meunier B, Ben Hassel M, Bretagne JF. Bone metastasis revealing hepatocellular carcinoma: a report of three cases with a long clinical course. Am J Gastroenterol 1995 Jul;90(7):1162-4.

Yen FS, Wu JC, Lai CR, Sheng WY, Kuo BI, Chen TZ, Tsay SH, Lee SD. Clinical and radiological pictures of hepatocellular carcinoma with intracranial metastasis. J Gastoenterol Hepatol 1995; 10:413-8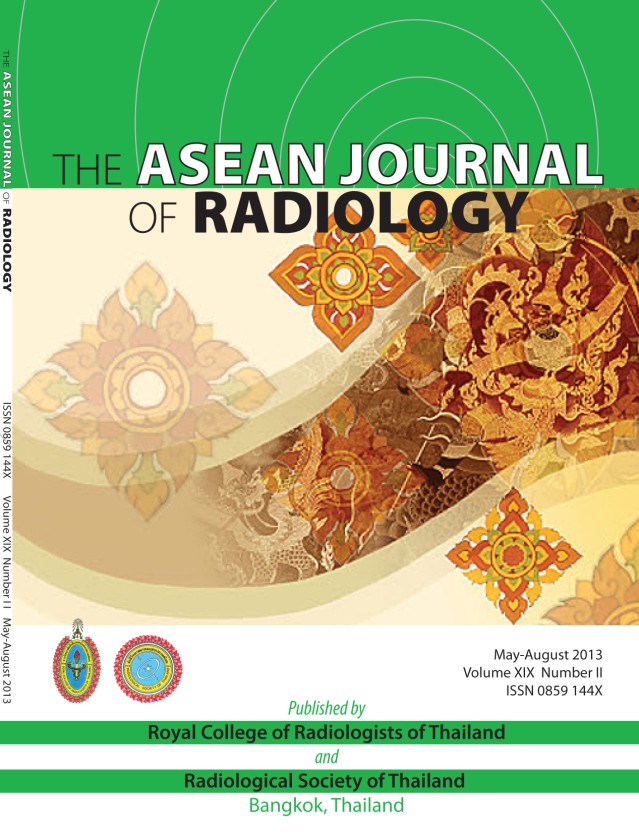 Downloads
How to Cite
1.
O Charoen P. Cerebral Hemorrhage and Femoral Neck Fracture as Initial Presentations of Hepatocellular Carcinoma. ASEAN J Radiol [Internet]. 2019Mar.11 [cited 2023Apr.1];19(2):122-8. Available from: https://www.asean-journal-radiology.org/index.php/ajr/article/view/30
License
Disclosure Forms and Copyright Agreements
All authors listed on the manuscript must complete both the electronic copyright agreement. (in the case of acceptance)