Spontaneous regression of the lung bulla
Keywords:
Bulla, Bleb, Regression, Spontaneous, Rupture
Abstract
     Blebs and bullae are gas-containing spaces commonly found in many conditions and usually cause no symptoms, but may progress over time resulting in respiratory distress; pneumothorax and superimpose infections are common complications of bullae. Spontaneous regression of the bulla is rarely encountered, and its mechanism remains unclear. However, a few case reports suggest that it usually occurs after an infection or a rupture.
We present a 72-year-old male ex-smoker who presented with progressive dyspnea for 1 month. His chest radiograph showed a few lung blebs and bullae in the right upper to middle lung field. Bronchodilators and anti-inflammatory medications were prescribed and he was referred to the pulmonologist. His first chest CT also showed multiple blebs and a large bulla in the bilateral upper lobes and he was scheduled for bullectomy because his bullae were symptomatic. However, at a 17-month follow up, his symptoms spontaneously improved and his chest CT showed regression of the bulla with only a few small calcifications and pleural thickening in the right upper lobe remaining.
Downloads
Download data is not yet available.
References
Hansell DM, Bankier AA, MacMahon H, McLoud TC, Müller NL, Remy J. Fleischner Society: glossary of terms for thoracic imaging. Radiology 2008;246:697–722. doi: 10.1148/radiol.2462070712.
Boushy SF, Kohen R, Billig DM, Heiman MJ. Bullous emphysema: clinical, roentgenologic and physiologic study of 49 patients. Dis Chest 1968;54:327–34. doi: 10.1378/chest.54.4.327.
Chang WH. Complete spontaneous resolution of a giant bulla without rupture or infection: a case report and literature review. J Thorac Dis 2017;9:E551–5. doi: 10.21037/jtd.2017.05.53.
Benito Bernáldez C, Almadana Pacheco V. Spontaneous regression of pulmonary emphysematous bulla. Arch Bronconeumol 2017;53:347–8. doi: 10.1016/j.arbres.2016.09.001.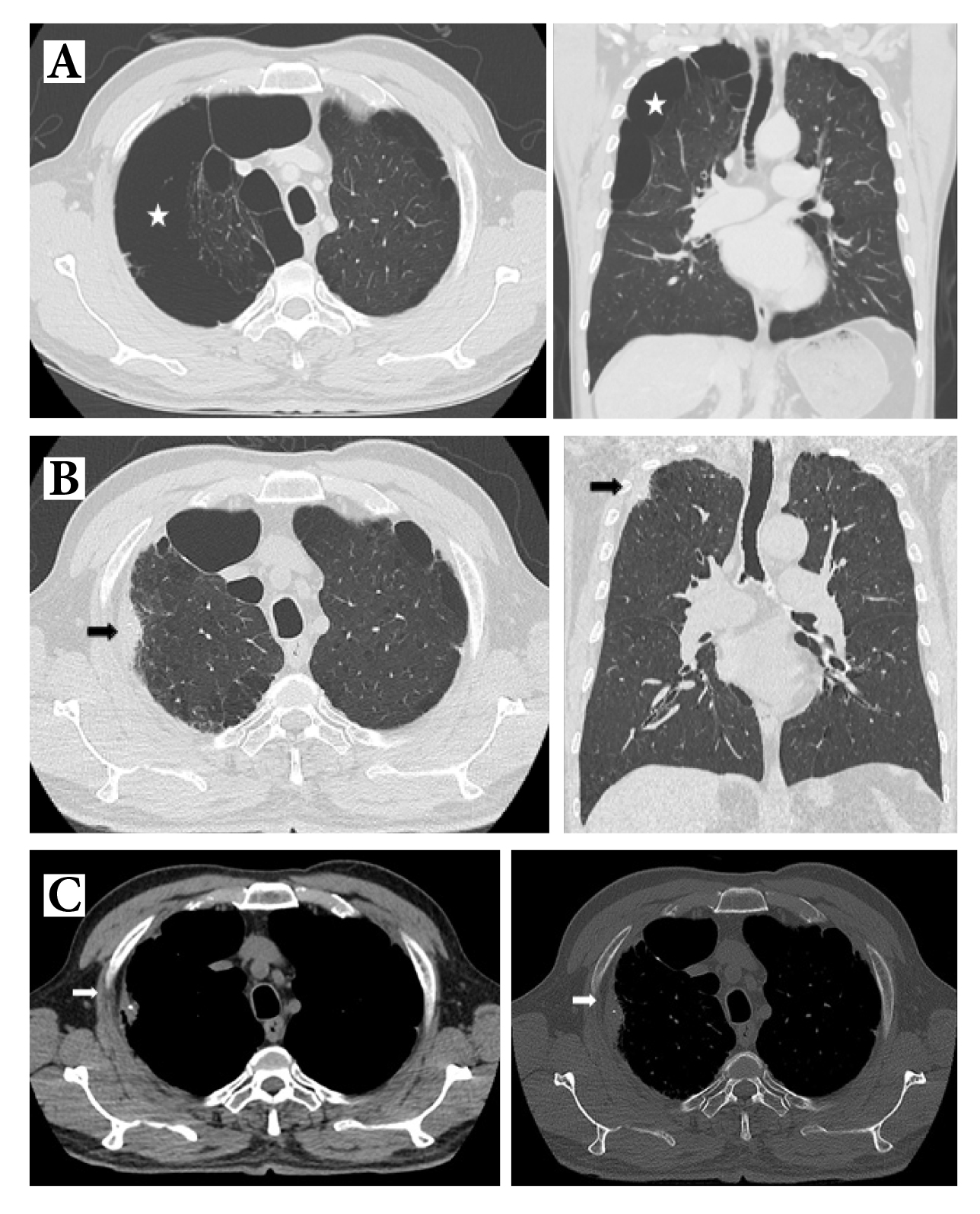 Downloads
How to Cite
1.
Daewa R, Saneha P, Bhuthathorn L, Thetasen N. Spontaneous regression of the lung bulla. ASEAN J Radiol [Internet]. 2021Dec.31 [cited 2023Sep.22];22(3):41-6. Available from: https://www.asean-journal-radiology.org/index.php/ajr/article/view/154
License
Copyright (c) 2021 The ASEAN Journal of Radiology
This work is licensed under a Creative Commons Attribution-NonCommercial-NoDerivatives 4.0 International License.
Disclosure Forms and Copyright Agreements
All authors listed on the manuscript must complete both the electronic copyright agreement. (in the case of acceptance)