A Comparison of Bone Scan Using between F-18 NaF PET/CT and Tc-99m MDP
Keywords:
Bone scan, F-18 NaF PET/CT, Tc-99m MDP, bone metastases.
Abstract
Objective: To study bone scintigraphy using between F-18 NaF PET/CT and Tc-99m MDP scan for detecting bone metastases.
Material and Methods: Thirteen patients (5 males, mean age 55.4 years, range 34-74 years) who were suspected bone metastases with single or two equivocal lesions on Tc-99m MDP bone scan were recruited between October 2010 and October 2012. All these patients underwent F-18 NaF PET/CT scan within one week after Tc-99m MDP bone scan. The sensitivity, specificity and accuracy of Tc-99m MDP bone scan and F-18 NaF PET/CT in differentiating metastatic bone lesion from benign lesion by patientbased and lesion-based analyses were studied.
Results: F-18 NaF PET/CT could identify all seven patients with malignant bone metastases that Tc-99m MDP bone scan was interpreted as malignancy in only three patients (42.9%) and equivocal in the rest of these patients. For lesion-based analysis of the overall 75 lesions, the sensitivity, specificity and accuracy of Tc-99m MDP bone scan were 48%, 83.3% and 70.7% and F-18 NaF PET/CT were 100% for all parameters. Besides the ability of F-18 NaF PET/CT to accurately identify malignancy from benign lesion, unenhanced CT portion of PET/CT can show extra-osseous findings that may change patient management.
Conclusion: F-18 NaF PET/CT provides an excellent bone image quality and higher accuracy than Tc-99m MDP bone scan. Then F-18 NaF PET/CT is a good choice for evaluating bone metastases.
Downloads
Download data is not yet available.
References
Subramanian G, McAfee JG. A new complex of Tc-99m for skeletal imaging. Radiology 1971;99:192-6.

Schirrmeister H, Guhlmann A, Elsner K, Kotzerke J, Glatting G, Rentschler M, et al. Sensitivity in detecting osseous lesions depends on anatomic localization: Planar bone scintigraphy versus 18F PET. J Nucl Med 1999;40:1623-9.

Blau M, Nagler W, Bender MA. A new isotope for bone scanning. J Nucl Med 1962;3:332-4.

Bridges RL, Wiley CR, Christian JC, Strohm AP. An introduction to Na18F bone scintigraphy: basic principles, advanced imaging concepts, and case examples. J Nucl Med Technol 2007;35:64-76.

Grant FD, Fahey FH, Packard AB, Davis RT, Alavi A, Treves TS. Skeletal PET with 18F-floride: Applying new technology to an old tracer. J Nucl Med 2008;49:68-78.

Even-Sapir E, Metser U, Mishani E, Lievshitz G, Lernan H, Leibovitch I. The detection of bone metastases in patients with high-risk prostate cancer: 99mTc-MDP plananr bone scintigraphy, single- and multi-field-of-view SPECT, 18F-fluoride PET, and 18F-fluoride PET/CT. J Nucl Med 2006;47:287-97.

Chua S, Gnanasegaran G, Cook GJR. Miscellaneous cancer (lung, thyroid, renal cancer, myeloma, and neuroendocrine tumors): role of SPECT and PET in imaging bone metastases. Semin Nucl Med 2009;39:416-30.

Segall G, Delbeke D, Stabin MG, Even-Sapir E, Fair J, Sajdak R, et al. SNM practice guideline for sodium 18Ffluoride PET/CT bone scan 1.0. J Nucl Med 2010;51:1813-20.

Chen CJ, Ma SY. Prevalence of clinically significant extraosseous findings on unenhanced CT portions of 18F-fluoride PET/CT bone scan. The scientific World Journal [Online]. 2012 [cited 2012 Dec 5]; Available from:httpwww.hindawi.com/journals/tswj/2012/979867.pdf.

Mckillop JH. Bone scanning in metastatic disease. In: Fogelman I, editor. Bone scanning in clinical practice. London: Springer-Verlag; 1987, p. 41-60.

Tumeh SS, Beadle G, Kaplan WD. Clinical significance of solitary rib lesions in patients with extraskeletal malignancy. J Nucl Med 1985;26:1140-3.

McNeil BJ. Value of bone scanning and malignant disease. Semin Nucl Med 1984;14:277-86.

Durning P, Best JJK, Sellwood RA. Recognition of metastatic bone disease in cancer of the breast by computed tomography. Clin Oncol 1983;9:943-6.

Muindi J, Coombes RC, Golding S, Parboo TJ, Khan O, Husband J. The role of computed tomography in the detection of bone metastases in breast cancer patients. Br J Radiol 1983;56:233-6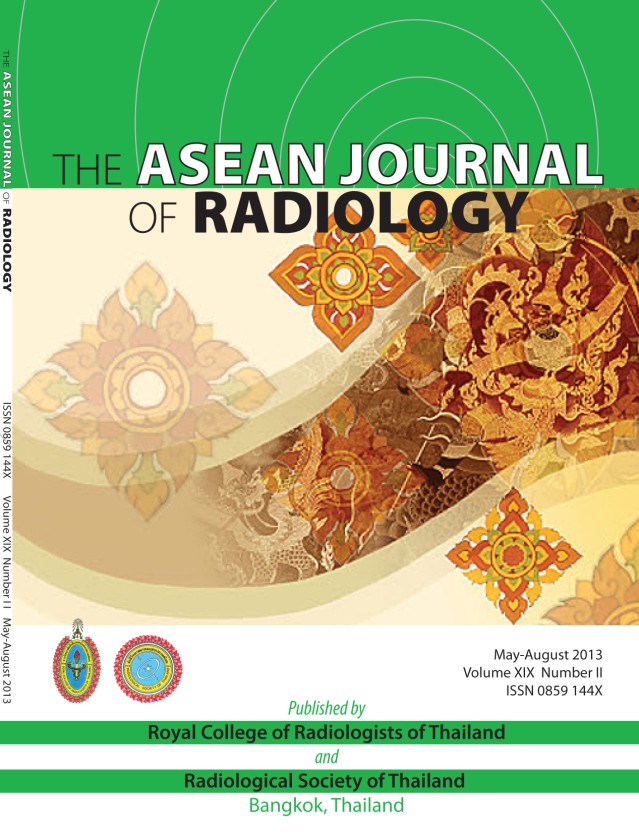 Downloads
How to Cite
1.
Pusuwan P, Ekjeen T, Tocharoenchai C, Maungsomboon K, Wiyaporn K, Komoltri C, Ruangma A, Tiparoj R. A Comparison of Bone Scan Using between F-18 NaF PET/CT and Tc-99m MDP. ASEAN J Radiol [Internet]. 2019Mar.11 [cited 2023Apr.1];19(2):77-8. Available from: https://www.asean-journal-radiology.org/index.php/ajr/article/view/25
License
Disclosure Forms and Copyright Agreements
All authors listed on the manuscript must complete both the electronic copyright agreement. (in the case of acceptance)