Barium granuloma in peritoneal cavity and right scrotal sac mimicking a germ cell tumor
Keywords:
Barium enema, Barium peritonitis, Barium granuloma, Processus vaginalis, Germ cell tumor
Abstract
Colonic perforation after barium enema is rare. We present a case of 6-month-old boy with palpable mass at left sided abdomen and right sided scrotum. Ultrasound and computed tomography (CT) showed calcified masses at Cul de sac and right scrotum with intraperitoneal fat infiltration mimicking germ cell tumor. Preexisting colonic wall injury or trauma and exposed to barium enema procedure can help to correct diagnosis and obviate unnecessary surgery.
Downloads
Download data is not yet available.
References
Kim DJ, Kim SH, Jeoung AY, Lee KH, Choi BI, Han JK. Barium granuloma of the rectum: case report. J Korean Radiol Soc 2003; 49:43-5.
McKee PH, Cameron CH. Barium granuloma of the transverse colon. Postgrad Med J 1978; 54:698-702.
Herrington JL Jr. Barium granuloma within the peritoneal cavity: ureteral obstruction 7 years after barium enema and colonic perforation. Ann Surg 1966; 164:162-6.
Williams SM, Harned RK. Recognition and prevention of barium enema complications. Curr Probl Diagn Radiol 1991; 20:123-51.
Dassel PM. Innocuous filling of the intestinal glands of the colon during barium enema (spiculation) simulating organic disease. Radiology 1962; 78:799-801.
Seaman WB, Bragg DG. Colonic intramural barium: a complication of the barium-enema examination. Radiology 1967; 89:250-55.
Kitajima T, Tomizawa K, Hanaoka Y, Toda S, Matoba S, Kuroyanagi H, et al. Anastomotic stenosis of the descending colon caused by barium granuloma formation following barium peritonitis: report of a case. Surg Today 2014; 44:2153-6.
Levy AD, Shaw JC, Sobin LH. Secondary tumors and tumorlike lesions of the peritoneal cavity: imaging features with pathologic correlation. Radiographics 2009; 29:347-73.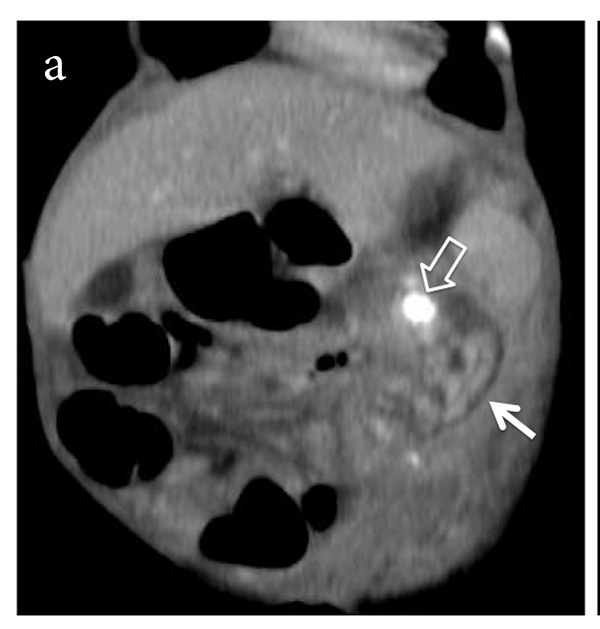 Downloads
How to Cite
1.
Kritsaneepaiboon S, Sangkhathat S, Kanjanapradit K. Barium granuloma in peritoneal cavity and right scrotal sac mimicking a germ cell tumor. ASEAN J Radiol [Internet]. 2019Jul.28 [cited 2023Sep.22];20(1):18-22. Available from: https://www.asean-journal-radiology.org/index.php/ajr/article/view/43
License
Copyright (c) 2019 The ASEAN Journal of Radiology
This work is licensed under a Creative Commons Attribution-NonCommercial-NoDerivatives 4.0 International License.
Disclosure Forms and Copyright Agreements
All authors listed on the manuscript must complete both the electronic copyright agreement. (in the case of acceptance)